In 2022 the Arts for Health Partnership developed and delivered Creative Carers, a new participatory arts programme strand for and with carers in West Cork. The programme is delivered by professional artists from various disciplines, it takes place at Uillinn and other locations in West Cork, and it works in partnership with community, voluntary, and/or statutory organisations. Since its launch, the programme has been enjoyed by carers across the county. We look forward to continuing to work with them over the next few months and into 2024. 
As Creative Carers began, the administrative and artists team sought to understand the needs of family carers and ensure the creation of a programme that met those needs through consultation with carers, arts and health professionals, development workers, and healthcare professionals. 
The final programme includes: Creative Carers at Uillinn, In the Picture, Creative Carers at Home, and Community Outreah.
Creative Carers at Uillinn is a creative workshop series exploring different visual art techniques, held on Wednesday evenings at Uillinn West Cork Arts Centre. The workshops take an informal and relaxed approach to exploring creativity in a supported and creative space where each participant can explore their own ideas.
"Warm, friendly atmosphere. Being encouraged to relax and let go. It was very freeing and forgiving, a whole new experience." – Participant, Creative Carers at Uillinn
In the Picture is a dementia friendly gallery tour for people with dementia and their family or professional carers. In The Picture includes a seated tour of the gallery with time to look and experience the artwork and the many wonderful views from the building. Sharing of stories, singing, making of artwork in the workspace and a shared cup of tea and biscuit are also included.
Creative Carers at Home is a series of 6 one-to-one creative sessions with a professional artist at home. With safety for both participants and artists a key consideration, the sessions are designed to develop shared creative activities for carers and the person they care for. 
"It was a beautiful journey of music, memories and swapping of stories. It was so lovely to see how engaged my Dad was at times especially when Justin played some of his favourite tunes!" – Participant, Creative Carers at Home
Community Outreach involves stand alone workshops for community centres and local resource groups to raise awareness about the programme and invite service users to get involved. In 2022, art making workshops were organised with Skibbereen Luncheon Club, Skibbereen Alzheimer's Café, and Skibbereen Day Care Centre.
"Having the outreach workshops gave us a step into new connections as we grow Creative Carers in the community. And having the new community liaisons will I think be a great benefit to building a strong relationship in the community." – Sarah Ruttle
All activities were provided free of charge, materials included and no experience was required to participate. Arts for Health artists Sarah Ruttle and Justin Grounds were the facilitators of the programme in 2022. Sarah Ruttle is a visual artist creating work using illustration, print and paper art. Justin Grounds is a violinist, composer, and electronic music producer. They both work collaboratively with participants on the Arts for Health programme in Community Hospitals and Day Care Centres around West Cork.
"Having the opportunity to work on Creative Carers Programme has been personally refreshing with a positive effect on my own practice. Participatory Arts, while it is exciting and rewarding, can be challenging and draining. Having the combination of working within the healthcare setting and in the community has worked well for me. Creative Carers has given me new energy." – Sarah Ruttle
"This pilot project has been a very fruitful development for me in my practice as an Arts for Health composer and musician. Previous to this my experience was in Community Hospitals and Day Care Centres with groups of participants. In this more institutional context the sessions needed to be group focused, trying to involve and inspire as many of the group as possible… I look forward to developing the project more in 2023 with group sessions for carers, and more home visits." – Justin Grounds
Arts for Health Partnership aims to continue working with community and voluntary organisations to develop and deliver a responsive participatory arts programme for and with family carers across West Cork. Among a number of objectives, Arts for Health plans to incorporate the following aims into the Creative Carers programme: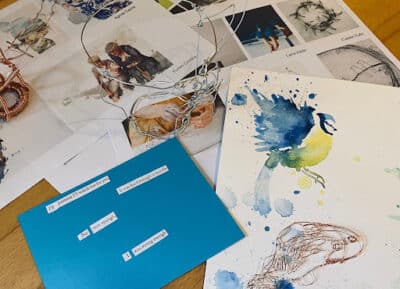 To work with the Family Carers and Older Persons Development Workers to build a network of organisations working with family carers in West Cork to meet on an ongoing basis to share resources, learnings and engage in mutual referral systems.
To continue to work one-to-one with carers at home and to consider whether further sessions can be offered to the same family.
To view the programme as a whole and encourage participants to attend multiple different activities as appropriate.
To expand the artists team and to incorporate fixed quarterly meetings for discussion, debrief, peer support and planning.
Today we launch our Creative Carers Report 2022. You can read the report here.